AUST CH LaExotica Latino Heat
Rhino
---
AUST CH LaExotica Latino Heat DNA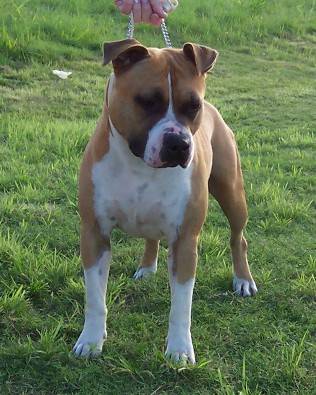 Rhino is the son of American import AUST CH Grimloc Aces High V Stafface (USA). Ace was imported by Yvonne Mitchell of Stafface in SA.
Rhino is the sire of MULTI BISS RUBISS ZForce Bigtime Charlie and AUST CH Zforce StarFX
Rhino brings with him strong type as well as a very stable temperament. Rhino was the pick of the litter and he was the start of my breeding program.
The Grimloc pedigree is no longer in Australia so we will be selling the last breedings as it has many traits to offer the breed.
Rhino was owned and very loved by Jacinta and Keith in Tasmania. Even though he has passed away, his offspring will carry on his legacy.
Frozen semen available to approved bitches
Rhino's Health Results :
Ataxia Clear
Hips - Good
Elbows - Good
DOB - 03/12/2004
Linebreeding - 5 Generations
4,4,5-5 AM CH Grimloc's Woodys Gone Rudy
3 Generation Pedigree
Parents

Grandparents

Great Grandparents

AUST CH Grimloc Aces High V Stafface (IMP USA)

Grimloc's Ready-N-Able

AM CH Rootntootn's Ruff N Reddy

Grimloc's Venus

Grimloc's Buzz-N-Ruth-E

AM CH Rootntootn's Ruff N Reddy

AM CH Grimloc's Radacious Gilda

Zforce Tomb Raider

AUST CH Bellamon Smooth Criminal

BISS GR CH Zican's Impressive Mr Doc ROH

AUST CH Bluesteel Kiara

AUST CH Tangogold Chief Maka

AUST CH Yanegua All Tanked Up (AI)

Lyntiki Midnight Madness