AmstarFX Callisto Moon (AI) DNA
Callisto
---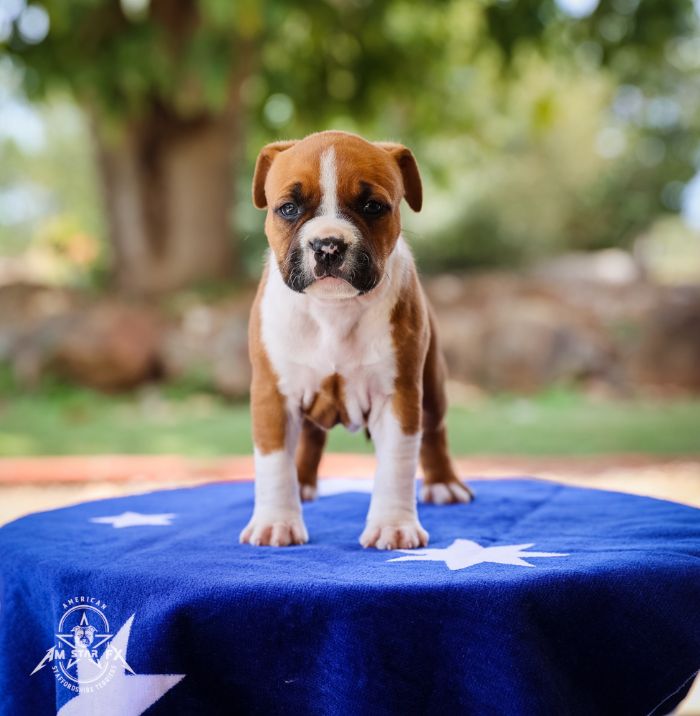 AmstarFX Callisto Moon (AI) DNA
Callisto is a gorgeous red and white female. She is our keeper from our Ned X Potts litter.
Callisto is the daughter of RUBISS AM CH AUST CH LBK's My Name Is Ned imported in from the USA. Ned has a very impressive pedigree, not commonly found in Australia.
Ned's Grandfather, AM CH Benmar's Sharp Shooter was born in 1995, making him nearly 28 years old. I'm very excited to be bringing those old lines into what I'm breeding today.
Callisto is the result of Ned's second litter in Australia so we are extemely excited to watch her grow and make her debut in the show ring in 2023.
A huge thank you goes out to Rach, Daniel and Jordan of Amdea Amstaffs in NSW for allowing us to use their gorgeous boy Ned :)
Callisto's Health Results:
Ataxia Clear,
DNA profiled
DOB - 28/08/2022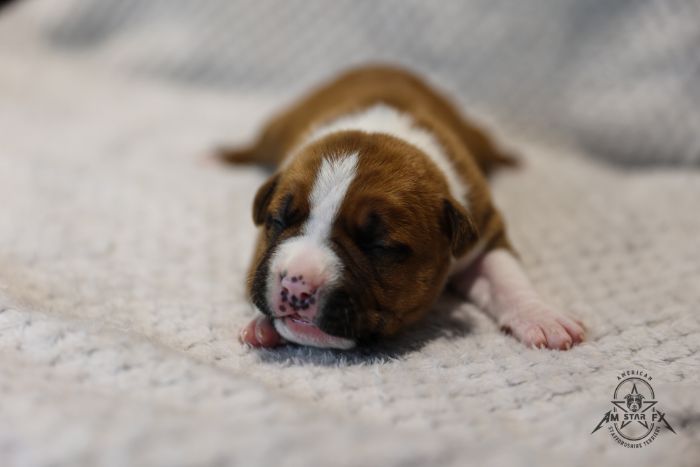 3 Generation Pedigree
Parents

Grandparents

Great Grandparents

AM CH RUBISS AUST CH LBK's My Name Is Ned (IMP USA) DNA, Ataxia Clear

AM CH AM GR CH Alpine's Benmar Six Shooter (USA)

AM CH Benmars Sharp Shooter (USA)

AM CH AM GR CH Alpines Raise Your Glass (USA)

AM CH AM GR CH LBK's Traffic Jam (USA)

MBIS MBISS AM CH AM GR CH Alpine's Highwayman AM RA AM CD (USA)

AM CH Black Spot Of Daft Rafters (USA)

AUST CH AmstarFX Swipe Right (AI) DNA, Ataxia Clear By Parentage

NBISS AM GCHS Cimar's Stainless Steel (USA) DNA, TT, Ataxia Clear

AM GCH Sbigstaff Enuf Is Enuf For LBK (USA) DN, CGC

AM CH Castle Rock California Girl For Sbigstaff (USA)

AUST CH AmstarFX I Got It Frm My Daddy DNA, Ataxia Clear By Parentage

AM CH PNX Cimar Champion of Rings (IMP USA) DNA, Ataxia Clear

AUST CH AmstarFX Trixi Firecraka DNA, Ataxia Clear By Parentage