Semen For Sale
---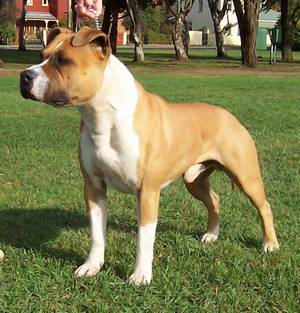 Rhino - 3 Breedings Available
Aust Ch La Exotica Latino Heat DNA
Rhino is an excellent ambassador for our breed with his stable temperament. He is a very nicely packaged moderate dog who has a strong straight front with a solid round chest, correct scissor bite and his movement is springy yet powerful.
At six months old and his first Championship Show, Rhino took out Challenge Dog, R/U Best of Breed against much older competition and then went on to win Minor Puppy in Group. With very limited showing, Rhino has been successfully campaigned in 3 different states of Australia.
Rhino's first litter he sired he was put back to his Grandmother and produced us a fantastic litter. All pups from this litter have excellent temperaments and good sound structure. Two of the pups have gone on to become outstanding show dogs. The first is our very own Aust Ch ZForce StarFX "Effie" and the second being Multi BISS RUBISS ZForce BigTime Charlie "Cedar".
We would like to thank Rhino's owners, Jacinta, Keith and family for accepting Rhino into their lives and being such fantastic owners and advocates for the American Staffordshire Terrier breed in Tasmania.
Rhino, although shown very sparingly has done extremely well in the conformation ring under Local and International judges. Rhino gained his Aust Ch title with ease.
Multi Baby Puppy In Group Winner
Minor In Group Winner
Multi Intermediate In Group Winner
Challenge Dog and Minor In Group at his first Ch Show
2005 2nd BEST NON CHAMP at the Amstaff Speciality Show
2005 BEST PUPPY OF BREED both days at the Spring Fair Ch Shows
After more than 5 months out of the ring, comes back to win RUNNER UP BEST OF BREED with over 25 amstaffs entered
Producer of MULTI BISS and Aust Champions
Rhino's Health Results:
Hips 8/12,
Elbows 0/0,
Eye Tested Clear,
DNA profiled
DOB - 02/12/2004
Linebreeding - 5 Generations
4,4,5-5 CH Grimloc's Woodys Gone Rudy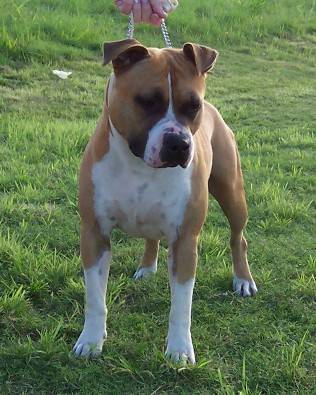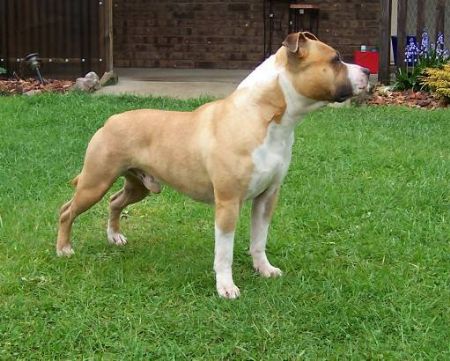 Sire to
Multi BISS RUBISS ZForce BigTime Charlie
Aust Ch ZForce StarFX DNA
BISS Aust Grand Ch AmstarFX Perfect Crime

BISS Fibra Echos Of Buba

BISS Fibra Potserelli
Aust Ch AmstarFX Trixi Firecraka DNA
Aust Ch AmstarFX Heidi Ho E.T
Aust Ch AmstarFX Tinkerbell DNA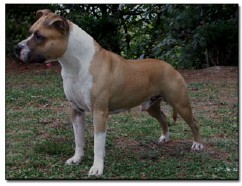 Parents

Grandparents

Great Grandparents

AUST CH Grimloc Aces High V Stafface (Imp USA)

Grimloc Ready-N-Able (USA)

AM CH Rootntootn Ruff N Reddy (USA)

Grimloc's Venus (USA)

Grimloc's Buzz-N-Ruth-E (USA)

AM CH Rootntootn Ruff N Reddy (USA)

AM CH Grimloc's Radacious (USA)

ZForce Tomb Raider

AUST CH Bellamon Smooth Criminal

BISS AUST GRAND CH Zican's Impressive Mr Doc (IMP SWE)

AUST CH Bluesteel Kiara

AUST CH Tangogold Chief Maka

AUST CH Yanegua All Tanked Up (AI)

Lyntiki Midnite Madness
-----------------------------------------------------------------------------------------------------------------------------------------------------------
---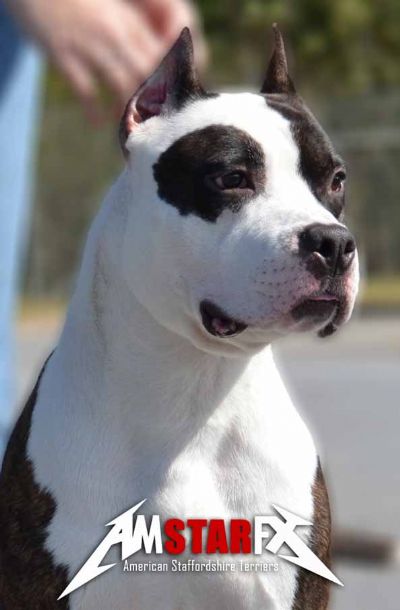 Prime - 7 Breedings Available
Am Ch PNX Cimar Champion Of Rings (Imported USA) OFA Hips (E), Cardiac, Patellas, Thyroid, DNA, Ataxia Clear
It is with great pride AmstarFX can introduce our latest member to the team. Prime comes to us from the USA and will join us here in Australia in 2015. He brings with him a very impressive pedigree as well as being fully health tested with excellent results.
Prime is the son of the world famous Multi BIS JBISS Int'l Ch Multi Grand Ch Praetorian Staff Born To Crush You who has sired many quality amstaffs all over the world.
Prime has done extremely well in the conformation ring in the USA finishing his Championship in 2 weekends with 3 major wins at 10 months old. He was also Reserve Winners dog at his first show - The Staffordshire Terrier Club of America Speciality in Louisville KY
We would like to sincerely thank Prime's owner, Kelly Townsend of Cimar Kennels in the USA for allowing us to bring Prime to Australia.
Prime's Health Results :
Ataxia Clear,

OFA Cardiac Clear (via cardiologist),

Hips OFA prelim Excellent - Penn Hip 0.33/0.39 No DJD

OFA Patellas - Normal
OFA Thyroid - Normal

Full Breed DNA Profiled

DNA Colour tested - Brindle Dominant
DOB - 14/09/2012
Linebreeding - 5 Generations
4-5 Peace Keeper's Aik Jack Bo
5-5 BIS BISS CH Fraja EC Winning Ticket
5-5,5 BISS CH Sindelar's Touch O'Class Orion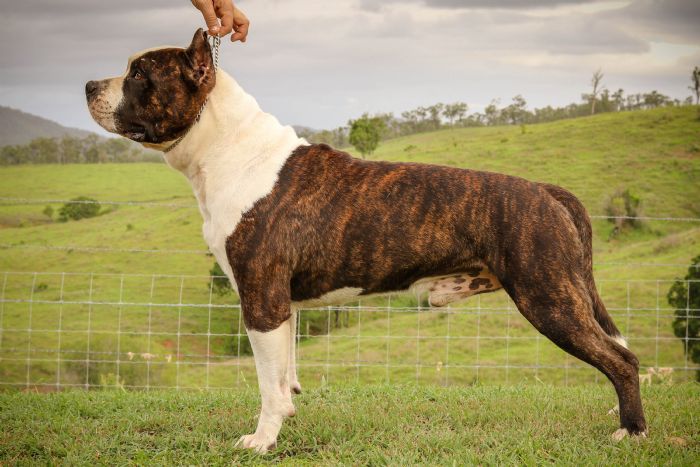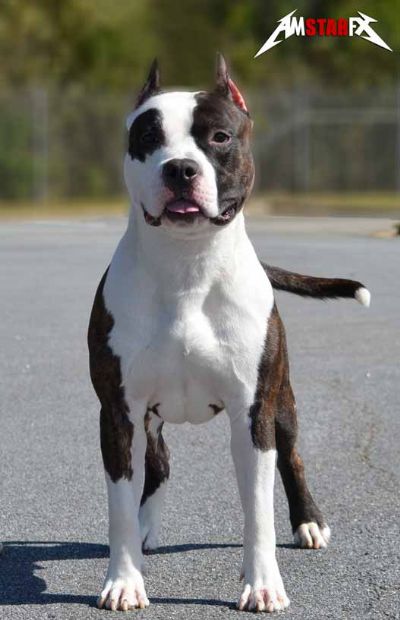 3 Generation Pedigree
Parents

Grandparents

Great Grandparents

MULTI BIS JBISS INTL CH MULTI GRAND CH Praetorian Staff Born To Crush You

MULTI CH LBC Get Together Again Lesoto

INTL CH Royal Courts Tipit Z Calvin

INTL CH EPD Blue Moon Lesoto

CH Praetorian Staff Sexy Lady

MULTI CH Alache Born To Be Wild

A Walking To The Clouds O'Class

CH Thunder Rock's Everest Peak

MULTI CH Sindelar's Oscar

CH Dayc's Blueriver Ru Walter

CH Sindelar's Daisy Day

Thunder Rock's Vyperine Queen

Srcky's Franstal Thunder Rock

Thunder Rock's Joy Of Life
----------------------------------------------------------------------------------------------------------------------------------------------------------